Program Guide
The information of program items are subject to change.
Day One: Sat, 12 April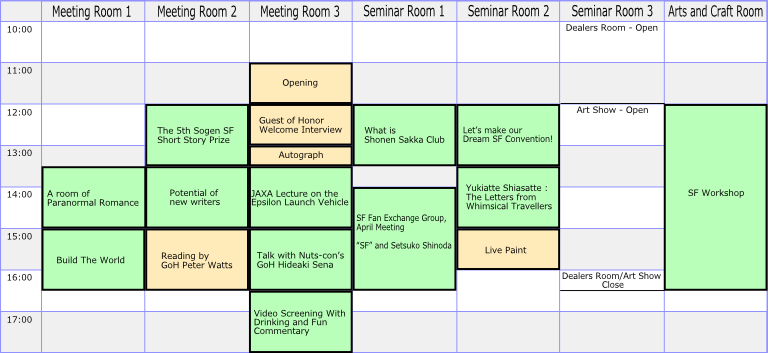 Meeting Room 1
13:30- A room of Paranormal Romance

Paranormal Romance is very popular in western world, however it is not so in Japan.We would like to int roduce interest ing Paranormal Romance novels and talk about it.
Program Participants: Kyoko Ogushi, hiller-may

15:00- Build The World

Ever wanted to play god? Here's your chance! Along with your fellow HAL-CON members, design a world from scratch, from the physical formation of the planet to the civilizations that that evolve there.
Meeting Room 2
12:00- The 5th Sogen SF Short Story Prize

Sogen SF Short Story Prize judges Nozomi Ohmori, Sanzo Kusaka, and Hideaki Sena will announce this year's prize winners and will also reveal all about their judging process. Aspiring authors should especially check this out!
Program Participants: Nozomi Ohmori, Sanzo Kusaka, Hideaki Sena, Tetsuya Kohama(Tokyo Sogensha)

13:30- Potential of new writers

Get together with hot writers, Taiyo Fujii of "Orbital Cloud" and others. Watch the potential of their talent.
Program Participants: Taiyo Fujii, Umiyuri Katsuyama, Kiyotaka Shimonaga, Mitsuyasu Sakai

15:00- Reading by GoH Peter Watts

Guest of Honor Peter Watts will read an excerpt from his novelette in Hal-con Books "The Eyes of God". Ikeda-Kun will also read the translated Japanese version.
Program Participants: Peter Watts, Ikeda-Kun
Meeting Room 3
11:00- Opening Program

The Opening program is the very first program to start up Hal-con 2014. We will introduce our Guests of Honor, our programs, and then will have a Quiz game with all attendees competing in teams.

12:00- Guest of Honor Welcome Interview

This will be an interview of the two Guests of Honor designed to help you learn more about them. There will also be time set aside for them to take audience questions.
Program Participants: Peter Watts, Hotaru Unno

13:00- Autograph

Autograph sessions by our GoH. They will sign on their books, related works and Hal-con books.
*Thank you for your corporation for not asking for autographs other than the autograph sessions.

13:30- JAXA Lecture on the Epsilon Launch Vehicle

A JAXA staff member will give a talk on the development and Sept. 14, 2013 launch of the Epsilon Launch Vehicle as well as on plans for the future of the rocket and for space exploration in general.
Program Participant: JAXA Hiroto Habu

15:00- Talk with Nuts-con's GoH Hideaki Sena

Japan Science Fiction Convention Nuts-con will take place in Tsukuba. Beginning of introduction of the con and Hideaki Sena GoH of Nuts-con and Nozomi Ohmori will show up. To be continued at Nuts-con.
Program Participants: Hideaki Sena, Nozomi Ohmori, Nuts-con Committee

16:30- Video Screening With Drinking and Fun Commentary

Halcon's firt Night Program! Let's have fun calling out our comments and jokes as we watch SF! GoT, HHG, DUNE… what will it be? Bring drinks and join in!
Program Participant: AMAB
Seminar Room 1
12:00- What is Shonen Sakka Club

During 60's and 70's, a number of juvenile SF has been published with support from Shonen Sakka Club established by Masami Fukushima. How were they spread SF out.
Program Participants: Hiroshi Minamiyama, Hiroyuki Ohashi

14:00- SF Fan Exchange Group, April Meeting "SF" and Setsuko Shinoda

This will be the SF Fan Exchange Group's first meeting to be held at Halcon. There will be discussion focusing on the genre crossing genius Setsuko Shinoda's work "Routine" by the author herself as well as editors, critics, and more.
Program Participants: Setsuko Shinoda, Takayuki Ookura, Shinji Maki, Yamagishi Makoto, Satoshi Ide


Seminar Room 2
12:00- Let's make our Dream SF Convention!

How much will it cost to hold another Worldcon in Japan? Last time we planned for the largest scale event location, but this time I think we should plan for the smallest scale event location.
Program Participant: Security Captain Takeda

13:30- Yukiatte Shiasatte : The Letters from Whimsical Travellers

Dempow Torishima, Haneko Takayama and Takashi Kurata, three travelers exchanging their memories from unknown places. Where they have been and what is waiting for them.
Program Participants: Haneko Takayama, Takashi Kurata, Tontarou Katsu

15:00- Live Paint

Our GoH will draw pictures in front of the audience. Come and see the art technique of the professional Manga Artist on this occasion.
Program Participant: Hotaru Unnou
Exchange room 1
17:00- GoH Party

We will have a party with Peter Watts and Hotaru Unno, mixing people with different languages, cultures, and generations. You may happen to see a different side of Guests of Honor. Come and join us with great food and good conversation.
Day Two: Sun, 13 April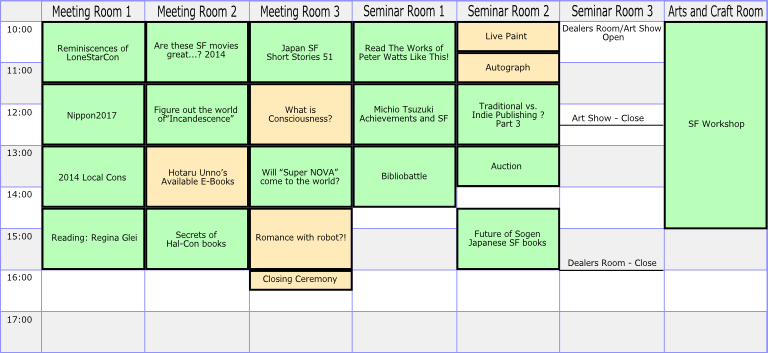 Meeting Room 1
10:00- Reminiscences of LoneStarCon

This group of 3 infiltrated LoneStarCon3 in order to become masters of the secret lore of Worldcon. Even though they made reservations to fly together things did not go quite as planned, in the end though they all somehow managed to arrive in San Antonio Texas. The tragicomical tale of what occurred there will now be told!
Program Participants: Hideaki Kawai, Tomoki Kodama, Shigery

11:30- Nippon2017

The committee has begun work for a second Worldcon in Japan. How have things been proceeding? What needs to be done from now? What hurdles do we face?
Program Participants: Nippon 2017 Organizing Committee

13:00- 2014 Local Cons

A panel about the various small scale conventions held all over Japan known as Local Cons. The dizzying world of Local cons will be introduced. Komekon, the 54th Japan SF Convention that will be held next year, will also be introduced.
Program Participant: Shigery

14:30- Reading: Regina Glei

It's become a small tradition that Regina is reading something from one or two of her latest novels/novellas during HalCon and makes small videos out of them for her mini YouTube channel. This year she'll read from the middle part of her trilogy around a modern day alchemist and from her latest novella publication with the US small press Dark Quest. The books are called "To Mix and To Stir" and "That One Minute". If there is still time, Regina will also answer any questions from the audience concerning her writing process or publishing issues. The program will be bilingual (except for the reading itself which will be in English)
Program Participant: Regina Glei
Meeting Room 2
10:00- Are these SF movies great...? 2014

This program will show you the movie trailers of SF / Fantasy / Horror genre which will be released in Japan this summer. We would like to discuss if the movie is worth watching or not.
Program Participant: Kyoko Ogushi

11:30- Figure out the world of"Incandescence"

For those of you are interested in "Incandescence" and clueless about physics. Introducing the world of "Incandescence" in an easy-to-understand way.
Program Participants: Mitsuhiro Itakura, Shinji Maki, Yamagishi Makoto, Tetsuya Hayashi

13:00- Hotaru Unno's Available E-Books

Manga of the past quickly went out of print! But E-books will not… probably. We will introduce Hotaru Unno's digitally published Manga. If you click and buy you can read them now!
Program Participants: Hotaru Unno, Hideaki Kawai

14:30- Secrets of Hal-Con books

Nozomi Ohmori reveals the secrets of Hal-Con books with Hal-Con translation team and design team. Selection of stories, translation, book design and titles etc.
Program Participants: Nozomi Ohmori, Saori Yamamoto, Kyoko Ogushi, hiller-may, Mutsumi Imaoka
Meeting Room 3
10:00- Japan SF Short Stories 51

An introduction of not just the best 50 of the Japan SF Club's 50th Anniversary Short Story Anthology, but of how the works were chosen, discussion of works that did not make it into the collection etc. And what if 2013 had been included in the Anthology? How would that have rearranged the puzzle of the story selection?
Program Participants: Sanzo Kusaka, Shinji Maki

11:30- What is Consciousness?

Peter Watts makes his reader consider consciousness and what humans are in works such as "Blindsight". Hideaki Sena also spreads these considerations through his novels. Together they will guide us through a consideration of the questions "What is the significance of consciousness?" and "What is a human?"
Program Participants: Peter Watts, Hideaki Sena, Preston Grassmann

13:00- Will "Super NOVA" come to the world?

Anthology of "NOVA" has come to an end with ten volumes. What is coming next? A black hole taking everything in or a supernova growing luster.
Program Participants: Nozomi Ohmori, Yasushi Ito

14:30- Romance with robot?!

Hotaru Unno drawing love with robot and Hideaki Sena writing about robot is her reader. Talk about love between human and robot.
Program Participants: Hotaru Unno, Hideaki Sena, Sanzo Kusaka

16:00- Closing Ceremony

HALCON 2014 will come to an end with the Closing Ceremony. Will next year's Guest of Honors be announced? Let's all meet again at HALCON 2015!
Seminar Room 1
10:00- Read The Works of Peter Watts Like This!

In his works, Peter Watts shows the condition and progress of humanity as well as their thoughts, desires, and consciousness, while breaking it all into pieces only to put it together again. We will give an initiation into how to interpret his works, primarily using "Blindsight" as an example.
Program Participants: Yooichi Shimada, Tokyo Sogensha

11:30- Michio Tsuzuki Achievements and SF

The famous Japanese mystery writer Michio Tsuzuki's numerous achievements will be introduced along with a discussion by an editor of his place in SF using such works as "Future Police Homicide Division", "The Universe's Great Hidden Chamber", and "Galaxy Pirate Billy Allegro" as examples.
Program Participants: Sanzo Kusaka, Tetsuya Kohama

13:00- Bibliobattle

Bibliobattle is a book reviewing game. The game selects a "CHAMP" book based on the 5 min. presentations for each book. All of battlers in this year's game are in their 20's. Please enjoy the SF they will introduce! We hope young people will learn the joy of SF through the Game. We will also support the improvement of the SF reading environment with a SF book donation.
Program Participants: The Association for the Advancement of Science Fiction and Fantasy
Seminar Room 2
10:00- Live Paint

Our GoH will draw pictures in front of the audience. Come and see the art technique of the professional Manga Artist on this occasion.
Program Participant: Hotaru Unno

11:00- Autograph

Autograph sessions by our GoH. They will sign on their books, related works and Hal-con books.
*Thank you for your corporation for not asking for autographs other than the autograph sessions.

11:30- Traditional vs. Indie Publishing ? Part 3

Regina has been reporting about her adventures in indie and small press publishing since the 2012 HalCon and also this year she has many new (shocking) stories to tell. E.g. about the decline of the quality of Amazon's CreateSpace and the never-ending hustle with small presses. The program will be bilingual.
Program Participant: Regina Glei

13:00- Auction

The pictures and prints displayed at Hal-con Art show will be auctioned. If there are many bids to the art, it will be auctioned at this time frame. Members are welcome to watch the auction.
* Please be noted that some of the pictures at the Hal-con Artshow are not for sale.
Program Participants: Hal-con Committee

14:30- Future of Sogen Japanese SF books

Nihon SF Taisho Award winning Yusuke Miyauchi's "Dark beyond the Weiqi" and Dempow Torishima's "Sisyphean" has been published from Sogen Japanese SF books.Two new writers for Sogen SF books talk about new movement of Science Fiction.
Program Participants: Takehiko Oxi, Haneko Takayama, Tetsuya Kohama
Workshop
We will have SF workshop at the arts and crafts room. Come and experience craftworks, and create SF related goods.
Arts and Craft Room
Let's make Boxes for Halcon Books!

Halcon Books are being sold with boxes. Why do attendees make them? They do it because it's a pain in the neck. Won't you come and experience this too?

Let's get back the world of "Sisyphean"!

You can get a special paper craft with the E-book version of "Sisyphean". But will people who read it as an E-book make it? Well, let's actually make it here!

Let's Become ZOMBIES!

Pale rotting skin, bloody hanging out eye, oozing red blood... Seeing them give their all in pursuit of their prey even though they cannot even run is so amusing… these zombies we all know and love. Don't you want to try being a zombie too?!?

Build a Tenyo Metallic Nano Puzzle

Let's make Metallic Nano Puzzles from Star Wars or JAXA's Hayabusa using needle-nose plier.

Let's make SF plastic models

Bring your SF-ish model kits and lets build them together! When they're finished, let's display them and brag about how awesome they are!

Let's create tridimensional story paper craft!

Takeshi Kurata created a tridimensional story paper craft system.
Multiple stories that explore something at somewhere are printed on 3 papers. When you build the paper craft to icosahedron, the complete story arises on the icosahedron. It is a miraculous experience.